03.04.14:
The OCCULTUS "Nuctemeron" LP is available now:
OCCULTUS (rus) - "Nuctemeron" LP
- Ya Ya Varaclaa Dezerbet Xuu Abraxas Ya Namosh Baalsebub Astaroth Moloch Exat! -
Get it via the Nachtgnosis Shop or our Bandcamp site
26.11.14:
After another unexpected period of holopsychaesthetic encapsulation and larvation, time has finally come now to anxiously proclaim the coming epiphany of a dark, sinister and terrifying phasma named
O C C U L T U S
Their utterly daemonic, occult and unearthly aura will pierce through your forsaken shell with devilish might and scorch the inside entirely, to cleanse and to overtake, amplifying vessel poisoned and inspired with the illumination of the fallen angel...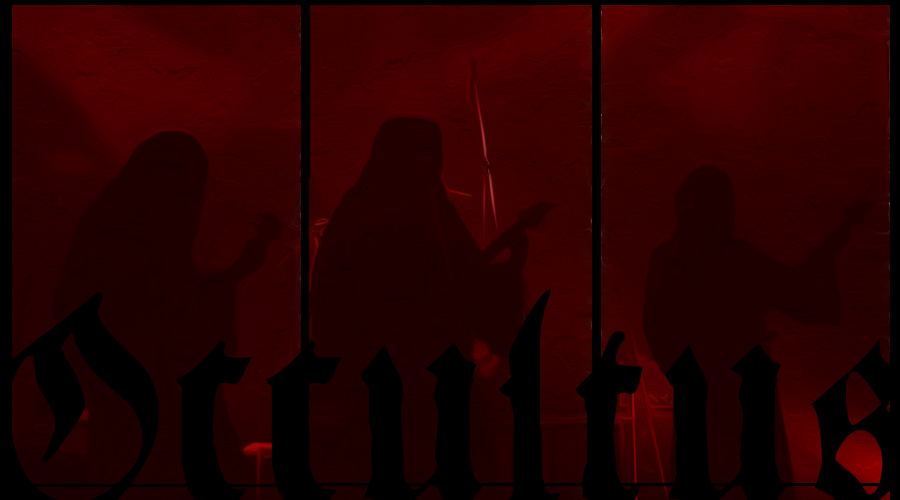 "Nuctemeron" will manifest under the Nachtgnosis sigill in early 2015 on CD and limited LP and humbly we slit our wrist to share blood and possession with this wrathful daemonic power from the cursed eastern soil. Those who yearn to taste this forbidden fruit before its foul explosion - go here: xXx
OCCULTUS - "Nuctemeron" (LP/CD)
I. Nuctemeron
II. Sigillum Diaboli
III. Armageddon
IV. Dominus Muscae (mp3)
V. Demonolatry
VI. Kult Of Satan
VII. Black Psalm
VIII. Goatmoon
IX. Tenebris Mountain
X. Ikvabe
+++
"OROROS GALGAL BARRAZOM
BARBATOS KL ATOTEF NOAH
APAS NATAMOS APAS BAALBERIT
EKRON AZ ZAFEA NEFERTUM
NHASH EN ALGATARON AXOXOA VER
MAETETEAM
TSAF TSAF TSAF
AEAHM!"
_______________________________
25.01.13:
+++ ANTINOMIAN - "Nihilum Infandum" LP MMXXIII +++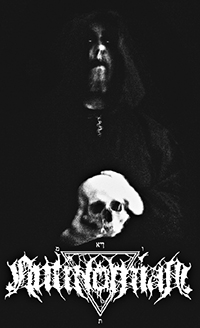 Proudly we proclaim the advent of "Nihilum Infandum", the magnificient debut work of Antinomian, on february 1st MMXXIII:
ANTINOMIAN "Nihilum Infandum" LP lim.500
I. The Incandescent Aberrance (mp3)
II. Chained To The Lifeless
III. Nihilum Infandum
IV. Intergenesis Of Chaos & Void
This exclusive vinyl edition can be preordered now for 13,- EURO. Get in contact via info@nachtgnosis.de or directly proceed to the mailorder section. Please note: A woven high-quality Antinomian patch will be included for free with the first 66 orders!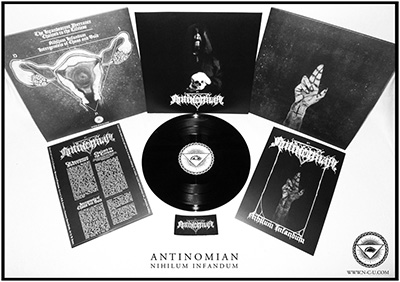 +++ "O Lord, Holy Death, may my heart never doubt thy living word..." +++
________
11.09.12:
+++ SUBVERTIO DEUS - "Psalms Of Perdition" CD MMXXII +++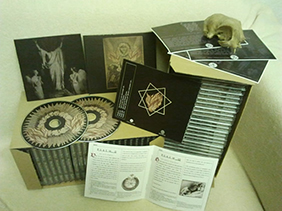 now available for 10,- EURO
Contact us at: info@nachtgnosis.de
_________
22.08.12:
The second coming of this brilliant masterpiece is finally close at hand. Physical process of manifestation and multiplication will be finished within the next 10 days. We are proud to offer the revised edition of "Psalms Of Perdition" in alliance with EXITIUM - this digital epitaph comes with new artwork, complete lyrics and annotations by Subvertio Deus.
Without doubt one of the best UK Black Metal albums ever!
+++ nacht010 SUBVERTIO DEUS (uk) - "Psalms Of Perdition" jewel-case CD +++
listen to: "Sub oculis domini..." (mp3)
_________
08.06.12:
Without sense.Without salvation. Withering worldly wound. Time accumulates pain, time distills death. And there is no home.
In august MMXII, Nachtgnosis will proudly release two magnificient offerings of theocidal madness: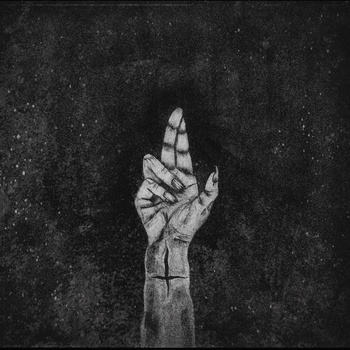 ANTINOMIAN (uk) - "Nihilum Infandum" 12"LP
I. The Incandescent Aberrance
II. Chained To The Lifeless
III. Nihilum Infandum
IV. Intergenesis Of Chaos And Void
"...And ANTINOMIAN shalt be the name by which the LORD, our god, shalt exalt the Word of eternal Death. By and through the death of the Subverted god, his resurrection shall birth an Holy and terrible curse, uttering praise in arid throats for the death of all things. 'Nihilum Infandum' is a descent into the great abyss and a sanctifying baptism in the Stygian waters of No-thingness."
+++
Additionaly, as epitaph and transmigrational legacy, there will be a revised re-edition of the brilliant SUBVERTIO DEUS album "Psalms Of Perdition" in digital format including an 8page/160gr booklet... This colossal effort needed to be made available again to further embed this numinous tunes in the forsaken minds of men.
More details regarding these two numinous assaults will be revealed soon...
vVv.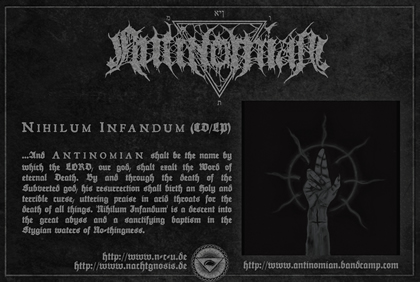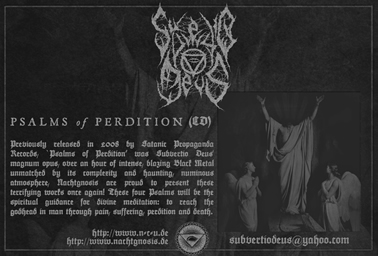 +++
______________________________________________________
29.11.09
The wait is over.
We are able to announce the advent of the long awaited analog manifestation of GRIFTEGARDs "Solemn.Sacred.Severe". It should take about 2 weeks from now to have all elements of this noble LP edition finally delivered to us.
This ingenious monument of spiritual doom simply needed to be baptized in a special visual skin. The result is worth the wait in every aspect.
The Regular Edition of this LP-edition is pressed on 180gr heavy vinyl media, wrapped in black paper protection-sleeves, inserted in a fine 350gr chromo carton and adorned with great golden hot-foil embossing and UV-spot lacquering. A 24 pages A4 booklet-brochure with lyrics, photos and altered artwork enhances the spiritual connection and atmospheric experience.
An additional Collectors'-Edition (same as regular edition but on red marble vinyl, coming with an exclusive bronze metal sigil, limited to 200) and a Deluxe-Edition (as regular edition, on red marble vinyl, with bronze metal sigil, in noble black leather vinyl-slipcase with golden hot-foil print and red linen inside, limited 100) will be available too
From now on we are taking pre-orders to secure a smooth shipping and delivery process. Please visit the mailorder-section to place your reservation.
We will update these visual impression below - based on the production samples - as soon as the actual LPs and LP booklets have arrived.

Alongside this grand opus' release, Nachtgnosis is going to offer reduced prices on a majority of the mailorder-articles during December in order to have a long overdue stock clearance and tempt you to fill in some gaps in your precious collection of dark and spiritual underground art...
vVv.
_______________________________________
14.09.09:

Alas! The release of the vinylversion of GRIFTEGARDs' "Solemn Sacred Severe" Doom Metal milestone has to be postponed a few weeks to emerge to a glorious november birth. Be sure that we will do our best to make this noble LP-Edition worth the wait. The CD version via VAN is available since Friday the 11th. Do not hesitate to visit the VAN vault for further detail and information...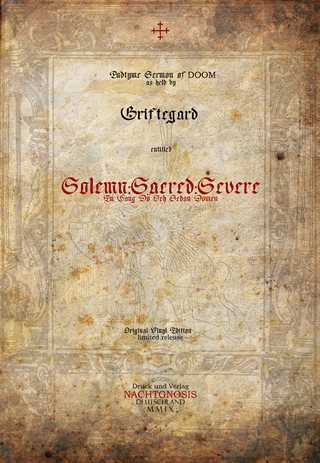 _______________________________________________
13.02.09:
Time has come to announce a truly crushing alliance forged in the most fiery pits of mount doom.
Alongside with our brother Sveinn of VAN, grand deliverer of faith and devotion, we will give birth to the upcoming full-length album of glorious GRIFTEGARD, swedish prophets of orthodox spiritual doom!
After the tremendous impact and sheer brilliance of their "Psalm-Bok" EP, the day of atonement is constantly drawing nearer now that will bring the most intense dose of doom metal in years to this forsaken world.
To still the hunger until that horizon breaks open, keep checking the site of VAN or this vault regularly. For those who yearn, a sign of advent will be given...
vVv.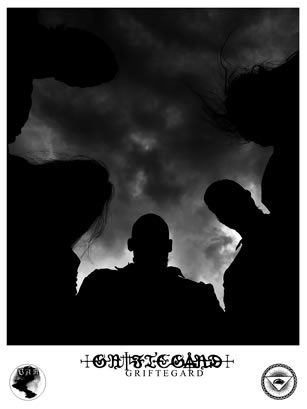 _____________________________________________
05.02.09:
Bleak February brings us the release of the first professionally printed shirt design of Nihil Nocturne in a limited printrun of 100 copies - printed on high quality B&C 190gr. heavy cotton this is a deathshroud meant to last!
The shirt comes in size S-XL and will be available at the 23rd of February. It can be preordered through this site as well. Contact us via info@nachtgnosis.de if interested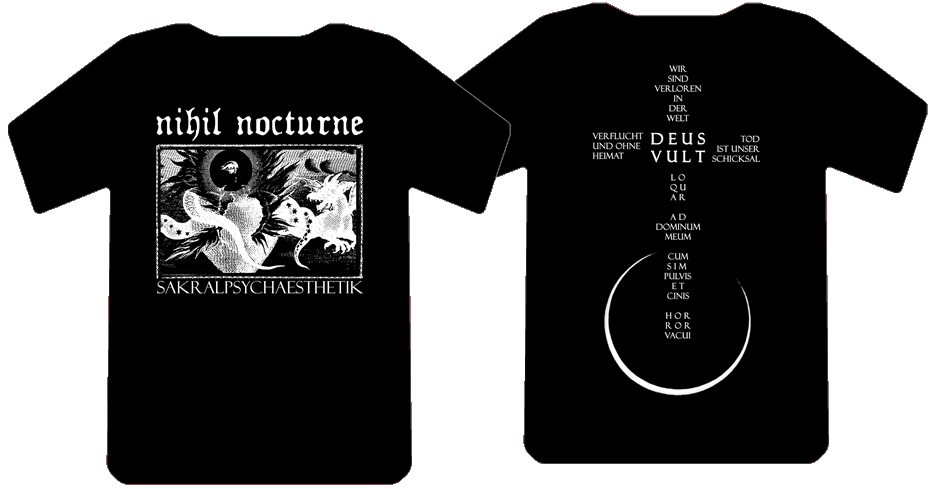 NIHIL NOCTURNE
"Sakralpsychaesthetik" Shirt
________________________________________________________________
12.01.09:
Available since today in its pure and original form, long awaited and finally cast into material shape - six sinister sermons held by two of the most promising orthodox acts emerging from the cursed eastern soils. This furious recording comes along with a gorgeous 32page CD booklet with mesmerizing artwork by Andrzej Masianis, polish visionaire of souls' apocalypse. Now, the time has come to witness the advent of dysangelists in wrath...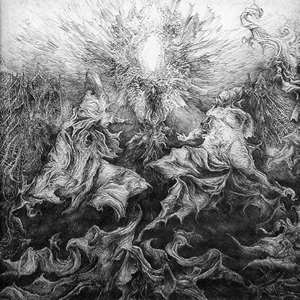 BLAZE OF PERDITION / PSEUDOGOD
"In The Void and Serpent, the Spirit is One" split-CD
__________________________________________
20.09.08:
After a longer period of silence, nachtgnosis reopens the metaphysial wound this advent of fall through the devoted spiritual anguish and sinister wrath of two magnificient recordings:
finnish VERGE succeed to distill a deeply touching album of atmospheric Black Metal from their injured and longing spirits - mindbinding guitar riffs, sublime yet majestic synths and diversified drum pattern, constant alternation between sharpteethed viciousness and numinous introspection, form this piece of musical expression, strongly oozing a genuine and absorbing tragic aura.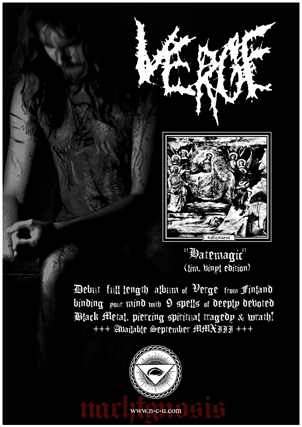 In proud alliance with polish Putrid Prophet Productions a further delphic weapon was forged in the fires of mind, speaking to you of rebellion and renewal and of spiritual cleansing through the illuminating curses of the serpent and the void. PSEUDOGOD spew forth utterdark and deeply devoted satanic death rituals and BLAZE OF PERDITION pervade the desolate void with fierce, wrathful hymns about the rise and fall of man...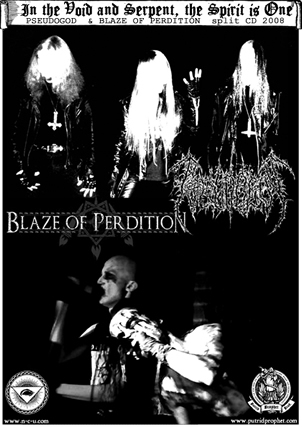 ____________________________________________
21.06.08:
As we are preparing for greater things to come, we now took the chance to make available a limited edition patch to the recent Nihil Nocturne "Entheogen" album, which was released on End All Life in late April, depicting the hermetic Trianus emblem! This dark icon is available for purchase via the N:C:U mailorder-section.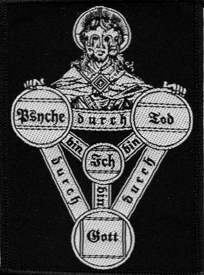 TRIANUS emblem - woven high-quality patch (10x7cm)